Domaine Rimbert - St. Chinian - Languedoc
Wie weet hoe je wijn moet proeven drinkt niet, maar proeft geheimen.
A biodynamic winemaker from Saint Chinian in the Languedoc.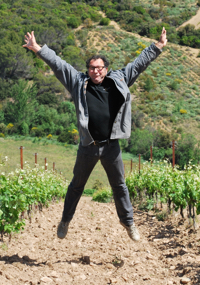 Jean-Marie Rimbert is, if you get to know him a little better, a bit crazy in the good sense of the word. Of course, as a small independent vintner, you have to be a bit crazy. But Jean-Marie is a bit different than usual, strange, funny and a little bit disturbed. To give an example, the label of his wine Grenachator. At the first time seeing the label I was surprised. Not really a label that is often seen. His explanation was fantastic. It's a joke. That's me. A good friend has drawn that figurine and I thought it would be fun to make a wine with it.

Jean Marie is from Provence and has been living in the Languedoc for almost 30 years. Here he started his dream and he has bought his first piece of land. A plot with old gnarled vines of the grape variety carignan. The soil contains a lot of slate which benefits the quality of the wine. Currently, Jean-Marie owns 20 hectares of vineyard including at the highest point of AOC Saint Chinian, Berlou. This is the wine made from this is much fresher than the other wines. Jean-Marie's dream was to prepare the best possible wine. I can say that I succeeded, quality and respect for nature are very important to him.
Website: Domaine Rimbert