Domaine Patrice Magni - Châteauneuf-du-Pape - Rhône
Patrice MAGNI is one of those craftsmen from Chateauneuf du Pape. He achieves his exceptional quality by working hard and passionately in the vineyard, and limiting the yield, also in the part where the Côtes du Rhône is made.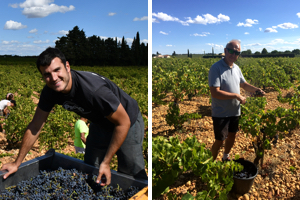 By friends of ours we are alerted to the wines of Patrice Magni. We make an appointment and start to taste. They have not exaggerated! The wines are elegantly tasty and extremely tasteful. In the basement they have created a nice bar where, on beautiful summer evenings, you can eat, drink and dance. Live music completes the picture and makes for a wonderful evening.

The family wine estate was founded in 1940. In 1993 Patrice Magni took over the helm from his father and grandfather and ran the winery in his own way. One of the first steps that Patrice made when he took over Domaine Patrice Magni was working with Philippe Cambie. From there, Magni has grown and started working 100% organically. Today, the estate comprises 11 hectares of vineyards, with 7 hectares in Châteauneuf-du-Pape and 4 hectares in the Côtes du Rhône. The vineyards of the Côtes du Rhône are located next to the Château de Beaucastel, just next to the border of the Châteauneuf-du-Pape appellation. The vineyard has a beautiful complex soil. The vineyards of Châteauneuf-du-Pape are located in two lieux dits, Cansaud (the east and south of the appellation close to "La Nerthe") and Les Bosquets (the plateau north of Châteuneuf-du-Pape), where the bottoms of red and yellow clay mixed with chalk, fine loess and sand. Patrice decided to work with a minimal use of treatment products. He harvests manually with a drastic grape selection in the vineyards. He also bottles his own best lots.
Since 2011, the son Thomas Magni has shared the responsibility for the domain with his father.