Domaine Jolivet - St. Joseph - Rhône
Domaine Jolivet is a winery located in Saint-Jean de Muzol, AOC Saint-Joseph in the Northern Rhone. They mainly grow syrah, rousanne, marsanne and a bit of viognier.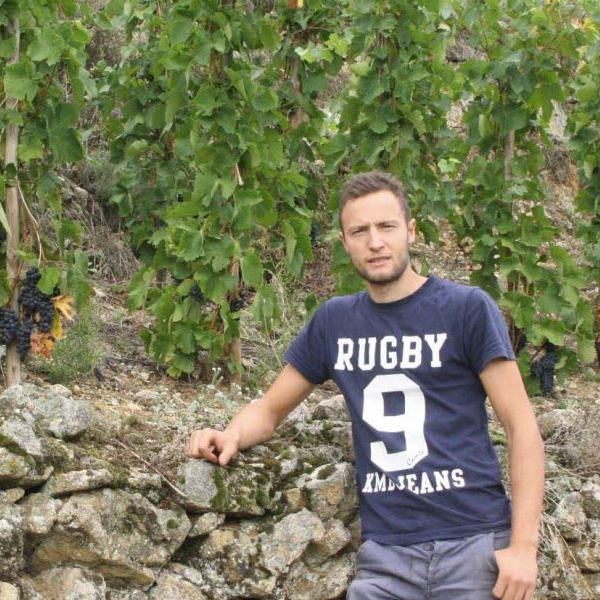 Bastien is a young winemaker of 28 years old, from Saint Joseph in the Rhone, full of energy and fanaticism. It is the son of Alain Jolivet, who sold his grapes to the cooperative. During the tasting, he talks about his wines, the work, the company and the processes. The wines are fantastic, he really surprised us! Of course, before he started, he gained experience with internships at several renowned French winemakers and with winemakers in New Zealand and South Africa. But you wouldn't think that he only started 3 years ago with his own company. Well, kudos!!

The Saint Joseph appellation encompassed six villages whose terraced hillside vineyards. Of those six villages, three represented the core with rich histories of grape growing and wine making. They were Tournon, Mauves, and St-Jean-de-Muzols. With St Jean succinctly celebrating the vine's age-old importance in its eleventh-century church, where grapes are carved into the capitals of its columns. In 1969 the appellation was extended from those original six communes to twenty-six, a much-criticized change but one reflecting the new economic power of wine. In the early 1990s, responding to this criticism, the syndicate of growers restricted the total area available to be planted from 7,000 hectares to less than 3,500, and created a mechanism to reduce vineyards planted on poor sites– mainly on the plain or high on the cold plateau– over a 30-year period. 

That said, these wines do not have the body, structure, and stuffing of their counterpart across the river in Hermitage. The soils are fundamentally similar, but Hermitage's south-facing hillside gets as much as two hours more of sun during the ripening season than St-Joseph's east-facing hillsides, which accounts for the best of St-Joseph possessing such flattering drinkability at a young age—something that Hermitage's far more reserved wines can't lay claim to.

Today the domain farms 15 acres of Syrah for its red St-Joseph and 2.5 of mostly Marsanne with a little Roussanne for its white. In addition, it farms six acres in appellation Vin de France for two colors as well. Currently, half of this is farmed organically while the other half is farmed sustainably. 

Each year as he comes to better understand his vines, Bastien makes changes to better protect the environment and increase the health of his vines. In the cellar, all fermentations are spontaneous. Syrah vines less than 30 years of age are de-stemmed; those that are older are considered on a parcel-by-parcel basis. Bastien is a big fan of working with stems because they can add complexity, density, length and balance to the wine, but he is proceeding slowly with the amount of stems he uses in fermentations. The wines are not fined and only filtered minimally. Likewise, SO2 additions are kept to a minimum.