Domaine Jean-Paul Schmitt - Scherwiller - Alscase
MijnWijnPlein imports the biodynamic wines from Domaine Jean-Paul Schmitt, Alsace, Ritterberg and combines them with delicious dishes.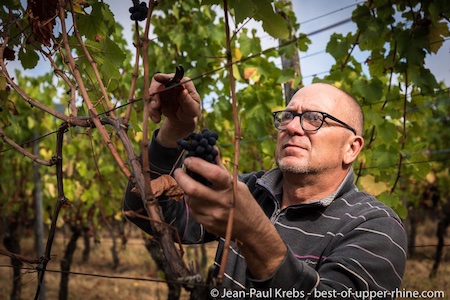 Domaine Jean-Paul Schmitt is a small independent biodynamic wine producer from the Scherwiller (Alsace). The wines of Jean-Paul-Schmitt are real character wines, natural, pure and pronounced, but above all of very high gastronomic values. Jean-Paul Schmitt is convinced that wines must be made in the vineyard. All the vines are in a granite substrate with many large gravel and gravel, hence the strong influence of minerals in the wine. In addition, it is not about quantity but about quality, which makes the concentration high. Domaine Jean-Paul Schmitt is an example of good and honest winegrowers ensuring that the pure and fair Alsace wines are put back on the map in the Netherlands.
From the 2015 harvest, the wines have been certified biodynamic
In the next video of Alsace20.tv, Jean-Paul Schmitt explains what is special about the Rittersberg
Read the note about Domaine Jean-Paul Schmitt from Joost Molegraaf here
Website: Domaine Jean-Paul Schmitt