Champagne - Maison Gamet - Mardeuil Vallée
Wie weet hoe je wijn moet proeven drinkt niet, maar proeft geheimen.
The Champagne house Maison Gamet is located in the typical Champagne village of Mardeuil. It is surrounded by slopes and is located two kilometers from Epernay, the capital of Champagne.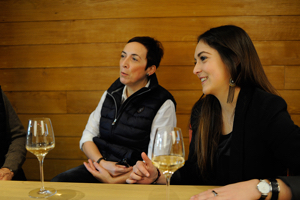 One Family - Maison Gamet 
Our story is one of comings and goings between two villages: Mardeuil and Fleury-la Rivière. It all started when François Gamet, who was born in Fleury-La-Rivière, went to help his grandmother, Victoire, who had a smallholding in Mardeuil where she grew grapes and other crops. Before long François settled in Mardeuil and started a family, but his son, Philippe met a girl from Fleury-la-Rivière who later became his wife; her name was Fabienne and she was the daughter of grape growers as well.

Both fathersin-law, François on the one side and Robert on the other, worked in the vineyards. To say that it was tough would be an understatement: most of the work was done by hand with rudimentary tools and of course they had to go out to work whatever the weather. Although Robert was a vineyard labourer he was ambitious and he decided to buy a few plots of land where he could plant his own vines and become his own boss – it was a bold thing to do, especially in those days.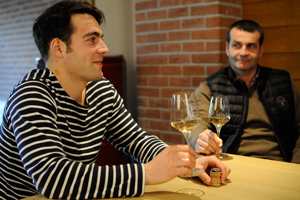 Meanwhile, Philippe completed his studies at the viticultural college in Avize, joined his father and set about developing more plots they could cultivate on the steep slopes in Fleury-La-Rivière. All this time he was still taking care of the other cereal crops.

In 1992 Fabienne and Philippe bought a few more plots of vines and with these and some other family assets they set up their own company.

One Philosophy
Soon they created their own brand, Champagne Philippe Gamet, and little by little Fabienne and Philippe built their business by buying more land and producing more bottles. They invested in better equipment, they adopted new working practices and they took every opportunity to ensure that the style and the quality of their champagnes was constantly evolving and improving. As the world itself changes and renews itself so too do Fabienne and Philippe: the adoption of the latest environmentally-friendly methods of viticulture will bring new perspectives as will the arrival of Jean-François and Marianne, the next generation of Gamets.

One Vineyards
Mardeuil is in the Vallée de La Marne just next to the town of Epernay, the capital of Champagne, but in fact our vines are located in three villages: Mardeuil itself, Damery and Fleury-la-Rivière. 55% of our estate is planted with Meunier, 35% with Pinot Noir and the remaining 10% with Chardonnay. We plough the soil mechanically which helps us to keep other treatments to the absolute minimum and in the majority of our vineyards we allow grass to grow between the rows. Harvesting is done entirely by hand and the average age of our vines is 30 years.
You need quality grapes to produce quality champagne!