Champagne Louis Huot - St-Martin d'Ablois
Wie weet hoe je wijn moet proeven drinkt niet, maar proeft geheimen.
Champagne house LOUIS HUOT is located in Saint Martin d'Ablois in the south of Epernay, in the Champagne region. The house was founded in 1950 by Louis Huot.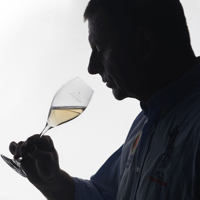 Today, Olivier is in charge and he has the knowledge, skill and passion of 4 generations. He cultivates pinot noir, pinot meunier and chardonnay on the seven hectares of vineyards, near Epernay. He works sustainably and organically and Champagne House LOUIS HUOT is biologically certified.
During our visit to Champagne House LOUIS HUOT we meet the very skilled Olivier. We get an extensive tour and, of course, taste all Champagnes. We are sold!
Champagnes by Louis Huot are synonymous with freshness, elegance and charm.