Domaine Duseigneur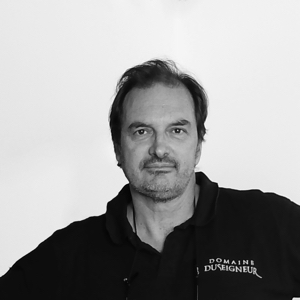 Bernard Duseigneur started developing his vineyard the way he had been taught by his ancestors, based on the knowledge that it would be the soil which would secure the long-term future of the vineyard and unique qualities of the grapes grown on that land." According to Duseigneur, "After years of practice, experiments and exchanges, we realised that, in order to produce high quality grapes, the vine needs much more than a simple set of nutriments. but a more refined nourishment, almost spiritual, that can only be created by the presence of a fauna and a flora that are as rich and diversidfied as possible. And, of course, a permanent link to the vigneron!"


For centuries, exceptional wines have been made in Châteauneuf-du-Pape to defy time and fascinate wine lovers. The sun, the wind and the familiar round pebbles form the basis for this magic. But terroir is nothing without the sweat of the winemaker and his team. During this challenge everyone helps in the search for excellence. This is only possible with humility and respect for all the elements that we never truly control but that make the journey thrilling.

The team of Bernard Duseigneur gets his energy from the fantastic surroundings of Châteauneuf du Pape. Where they grow the vines as vitally, sustainably and harmoniously as possible. In doing so, they use the knowledge of previous generations and learn every day to enable future generations to experience their adventure.

The Astrolabe, in the Bernard Duseigneur logo, is an old instrument that helps sailors navigate the sea and that is based on the galaxy. The logo represents the influence of the cosmos on the biodynamic processes that they follow.