Domaine Sainte Marie des Crozes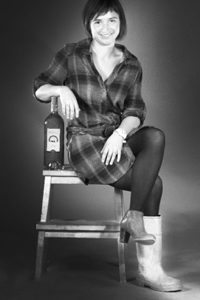 Christelle likes to talk, and when she starts talking about wine, she can not be stopped anymore. The uninhibited, creative and funny way she talks in combination with her fantastic wines made me immediately convinced she wanted to import her wines. The Alias family believes in nature and therefore only work organically. Creativity, innovation and craftsmanship led to elegant wines, each with its own character. The youngest daughter, Christelle Alias, recently acquired the company and is the 5th generation winemakers.
Domaine St. Mary des Crozes is located in Douzens, Languedoc. This is the northernmost wine region of Corbières. On the hills of Alaric, lie the most beautiful vineyards, with an exceptional terroir. The influences of both the sea and the Mediterranean climate are favourable. It is hot and sunny here. The bottom of the slope consists of clay and limestone. In the vineyards, you smell 'garrigue' the smell that is so familiar to the surroundings, which gives the wine aromas of the thyme and hawthorn.
Website: Domaine St. Marie des Crozes